Custom Orthotics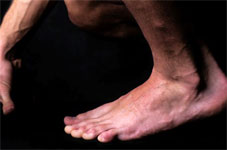 As with any structure, if the foundation is not stable, the elements above become affected. This also applies to ones feet, the foundation of your body. Imbalances of the supporting structures of your feet can result in excessive foot motion, which in addition to altering proper foot function, can result in rotation of the legs, which may affect your ankles, knees, hips and back. Custom Foot Orthotic Devices (orthoses) are designed to control one's foot biomechanics to a precise degree throughout all phases of gait.
Who Needs Orthotic Devices
If you are experiencing foot, shin, knee, hip or low back discomfort that does not resolve, the origins may be bio-mechanical in nature, in which case an orthotic device may be helpful. Since orthotic devices can work in a preventative fashion, they may be appropriate in some cases where future problems may be considered likely. As an example, if the foot rolls in or flattens excessively, our lower extremities become predisposed to additional stress, leading to possible pain and limited function. Similar problems may occur with a high arched foot. High arched feet while standing are typically imbalanced and provide very poor shock absorption. Orthotics can ultimately improve weight distribution and comfort. Keep in mind, regardless of foot type, as we walk, run or play sports, our entire body weight lands on our feet up to 4,000 times a day.
Be Careful - Buyer Beware
Today's technologies allow producers to manufacture "PRE-FABRICATED ORTHOTICS" and sell them as custom made. This is a common practice in the G.T.A. and most often involve individuals who have taken a weekend orthotics course provided by the manufacturer. Patients who seek orthotic therapy should be very weary of direct selling programs or weight bearing computerized systems to "order orthotics". Two-dimensional measurements do not equate to accurate three-dimensional devices. Be sure you are working with a foot specialist such as a Pedorthist who have specific training in biomechanical assessment and custom orthotic design.
What is a Pedorthist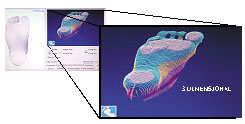 The Sports Medicine Specialists endorse the practice and profession of the Pedorthic Association of Canada. Canadian Certified Pedorthists are trained and tested in their knowledge of biomechanics, anatomy, physiology of the lower limb, orthoses fabrication and modification and footwear fitting and modification. As footwear and orthoses experts, Canadian Certified Pedorthists work as members of the healthcare team to alleviate painful or debilitating conditions resulting from abnormalities or limited actions of the lower limb. Patients are typically referred directly to Certified Pedorthists by their physician or medical specialist. All major Canadian Insurance Companies endorse Certified Pedorthists as providers of this service. For more information go to: www.pedorthic.ca
Unmatched Product Design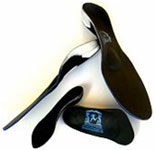 At SMS corrective foot orthoses are made from a traditional three-dimensional cast molding or a start-of-the art Laser Scanner (C.A.D. System) of ones feet. These techniques have proven to be the most "medically accepted" and biomechanically accurate methods in producing custom orthotic devices. From a positive plaster/composite mold, orthotic devices are fabricated using vacuum forming methods. Based on the individual's body weight, foot type, footwear and activities, the latest materials are selected for the thermal molding process. The finished product is ultimately individualized by material design and customization. The orthotics are accompanied with a full laboratory warranty against breakage and comfort.
Special Designs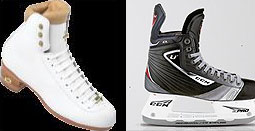 With few exceptions custom orthotics can be made for all types of footwear. At SMS we specialize in Sport Orthotics and Skate Orthotics. Patients will be assessed with the view of determining what style or material make-up is going to serve their needs best. Sport Orthotics will be individually designed and specific training shoes recommended. Skate Orthotics are low profile in design with a unique negative heel raise. This results in a perfect fit, enhanced balance, power and edging performance.
Consultation Appointment
On an appointment basis, a 40 minute consultation is required. Patient history is conducted followed by a complete biomechanical assessment. Please contact the clinic for up-to-date pricing.
Appointments can be made by calling the clinic directly 905-455-0800 or dropping by in person at 247 McMurchy Avenue South, Brampton, ON L6Y 1Z4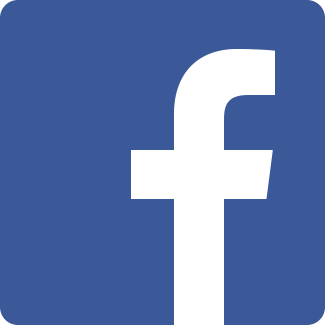 Like us on Facebook